How I Write

I find ideas for my books more or less everywhere. They come to me in dreams, I discover them in newspaper articles, or I find myself being captivated by something in the television news. In my work with children and young people, and in conversation with them and my friends, I also have the occasional sudden flashes, ideas that sometimes take on a more concrete form. I sometimes experience the seed of an idea when I'm out walking, sitting on the bus or train, or riding my bike. It often happens that I observe a scene which makes me pause and leaves me feeling thoughtful. And finally it stimulates my imagination to such an extent that I do some research to find out more about the subject in question.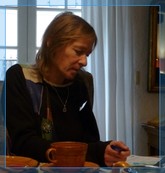 It often takes over a year for the first spark of an idea to be transformed into a book. I spent weeks - sometimes several months - getting to know my characters and their background stories down to the tiniest detail. Not until I can see them in front of me as real figures, and my figures have answered all my questions about their characteristics, preferences, weaknesses and dreams, do I begin to write. That's how the novels you can find here come into being.

Shortly before I finished my first novel I found myself thinking nothing would ever occur to me again. But the longer I write the unwritten stories I discover in the faces of children, young people and grown-ups I encounter in the subway or in the park, in the streets or in department stores.